Whites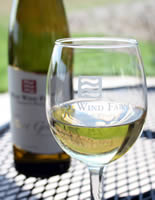 Galena Creek White is our off-dry, crisp white made from the Vidal Blanc grape. It's fermented in stainless steel and exhibits green apple and citrus notes. 

Gewürztraminer thrives in our hillside vineyard here in Virginia's southwestern mountains. While it's not the easiest grape to grow, once you taste it, you'll see why it's worth the effort. Aromas include rose petals and ginger while the flavors feature melon and citrus giving way to clove before a clean finish.

Our Pinot Gris is a luscious white wine perfect for outside, summertime, or anytime enjoyment. Made in the Alsatian style, it's full bodied with a hint of residual sugar. Notes of apricot and stone fruit are evident on the nose.  
Riesling grows well in our little part of the Blue Ridge Mountains. The cool evenings bring out classic flavors and aromas in this German-style white wine.  Look for notes of tropical fruit and pear. Lush and refreshing, this wine has 1.75% residual sugar, making it slightly - but not overly - sweet. 
Reds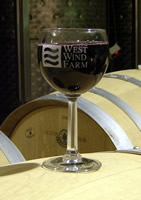 Galena Creek Red is a proprietary blend we created from Cabernet Sauvignon, Chambourcin, and Pinot Noir. This fruit-forward red has delightful red berry and cherry overtones and was aged in French and American oak for 16 months.
Chambourcin is a red French hybrid grape that was developed over a hundred  years ago. We make a varietal wine from it that has beautiful deep color that is matched by its more intense flavor profile. Aged in French and American oak for 12 months. 
Cabernet Sauvignon is one of the most recognizable grapes in the world. Our Cabernet exhibits a luscious fruit-forward profile with notes of dark berries and licorice underscored by hints of mocha. Delightfully complex and equally drinkable, it was aged in French and central European oak for 12 months. 
Sweeter Selections
Galena Creek Blackberry is 4% residual sugar but features the structure of a red wine. A blend of Merlot and Chambourcin plus the flavor of a ripe, juicy blackberry makes for a tasty wine that's great for entertaining.
Galena Creek Peach combines crisp, clean Vidal Blanc with the flavor of a ripe, fuzzy peach. Tailor-made for porch sipping, it's pleasantly crisp even though it has 4% residual sugar.  
New River White is reminiscent of the grapes our grandparents grew around their front porch that we ate as children.  Niagara grapes make this delightfully fruity wine that registers at 7% residual sugar. 
New River Red will evoke vivid notions of grape juice and jelly.  Made with the Concord grape, it's our sweetest wine at 8% residual sugar.  For those that have been waiting for a truly sweet red, here it is.

Limited Release Wines
Our 2014 Heritage Reserve has sold out - we'll remember it fondly!
Once every few years, there's a vintage that yields exceedingly good barrels of wine that deserve special treatment.  In 2014 we had such a vintage and that's when our last Heritage Reserve began.  This  blend of Cabernet Sauvignon and Petit Verdot is well-balanced and exudes warm cocoa and tobacco notes with overtones of bright red fruit.  A delicious, small-production wine - of which only 45 cases were made. Aged for 24 months in French oak.