About Us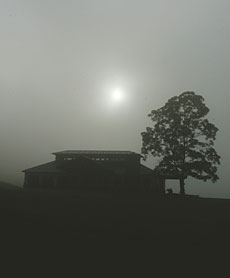 Paul and Brenda (Humphrey) Hric moved home to the Southwest Virginia mountains in 2005 to Brenda's family homeplace.  West Wind Farm is the current incarnation of what started as Mount Zephyr in the mid-19th century.  The Humphrey family came to own the farm in 1914 and Brenda and Paul were able to keep it in the family by establishing West Wind Farm Vineyard & Winery.  (Just in case you're wondering, Zephyr means "west wind".)
The grapevines were planted in the spring of 2003 and the first wine made here was in the fall of 2005.  Currently there are five acres of grapes being cultivated on the farm.  This allows Paul to exercise the growing skills that were once showcased at Country Meadows Nursery and Greenhouses in Greensboro, North Carolina.  He and Brenda owned the successful garden center until 1999.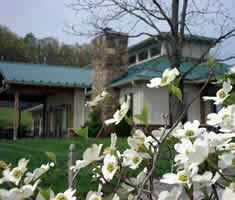 David Manley and Jason Manley, nephews, got on board from the beginning and helped bring about what is now West Wind Farm Vineyard & Winery.
Jason returned to the mountains of Southwest Virginia after living in Charlottesville and in Greensboro, North Carolina. He makes your visit enjoyable whether he's behind the bar, keeping the place looking great, or finding useful, tasty, and beautiful items to sell.  He makes our lives more pleasant with his hard work in the vineyard and all around the winery. 
David lived in Charlottesville and in both Carolinas for ten years before returning to his roots.  He was instrumental in the design, launch, and operations of West Wind Farm for the first several years. Recently, David went to work in economic development and leads the Joint IDA of Wythe County, VA. Don't worry - he still shows up to lend a hand once in a while! 
Our wine is truly family-crafted.
Accolades & Accomplishments
We're proud of what we've achieved in the short amount of time we've been open. Here are a few of the highlights:
In the decade since our opening in 2006, our wines have been awarded dozens of awards at a variety of competitions. Virtually every wine we've made has been recognized.

West Wind Farm Vineyard & Winery was the second winery in Virginia to be certified Virginia Green by the Commonwealth's Department of Environmental Quality. We subscribe to principals of sustainability and we try to minimize our impact on the environment when possible.

Our wine was also approved for participation in Virginia's Finest a recognized quality assurance program sponsored by the Virginia Department of Agriculture and Consumer Services.
Our tasting room has been named a favorite in Virginia, too!
Our tradition of excellence speaks for itself.