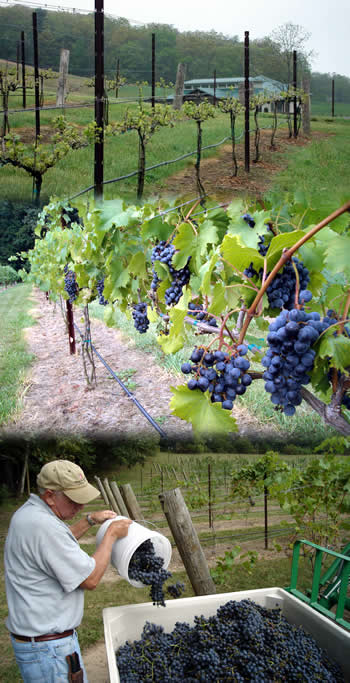 The Vineyard
Our farm in Blue Ridge Mountains of Southwestern Virginia provides a beautiful setting for our vineyard and winery.  The elevation, cool nights, well-draining rocky soil and other factors go far in making our vineyard unique and in generating a distinct, high-quality crop of grapes. Good wine can only start with good fruit.
The elevation and climate do provide tests, as well.  Our shorter growing season can prove challenging, particularly when mid-May frosts and early October freezes occur.
These challenges become opportunities, however, as we turn the fruit from our farm into wine you can find nowhere else.
Family-crafted Wine
Our wine is never manufactured.  We create only small batches of wine every year using age-old winemaking methods.  Each lot is hand-tended from harvest to bottle and virtually all of the work is done by our family.  We believe our small-batch winemaking allows us to provide unique wines of the highest quality from vintage to vintage.
We intend for the character of the grape or blend to show through in each of our offerings, and our mountain-grown grapes are brimming with character!  Our wines may not always be traditional, but we guarantee they won't be like any others you've had.
A dream to be a place to be
Our goal at West Wind Farm is to make small batches of great wine. Equally, we aim to provide an inviting, comfortable locale and atmosphere for its enjoyment.  Take in the views from the patio during the warmer months or enjoy the warmth of the fire in the stone fireplace in the tasting room when it's cool.
When you visit, we're sure you'll agree that West Wind Farm is authentic and never pretentious.  Even if it's your first trip to a tasting room, your experience will be educational, engaging, and comfortable.
The tasting room here is also brimming with tasteful things for you to take home.  Local art, gourmet snacks, wine accessories, custom gift baskets, luxurious soaps, and household gifts are just a few of what you'll find.  Did we mention we have wine, too?
Join us in helping make a name for Southwest Virginia wines!